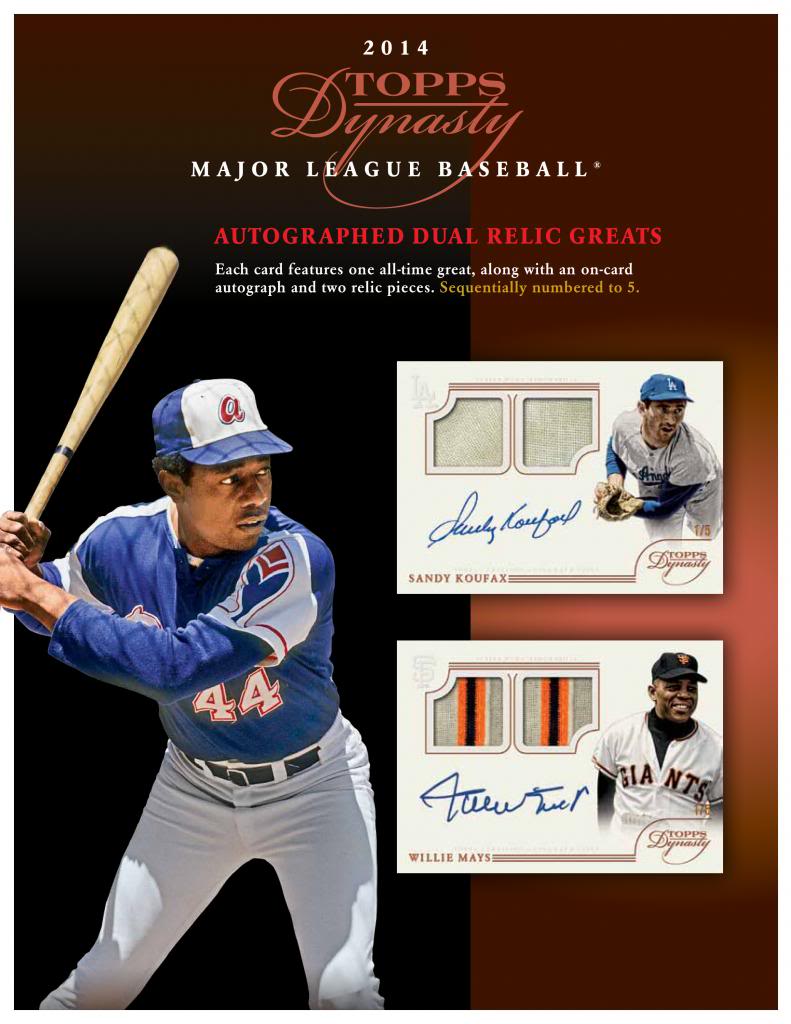 Topps has released it's first rendition of the
ULTRA high-end Topps Dynasty Baseball.  This product is selling for North
of $300 per box. Is it worth it?  Let's find out.
Product Configuration:
1 pack per box.1 cards per pack.
PER BOX BREAK DOWN
– 1 autograph card per box/pack – Will either have a patch, dual relics or will
be a cut auto.
PRODUCT HIGHLIGHTS
– The patches that have been shown, thusfar, have been fantastic.  At $300+
per box, this is the least that Topps could do.  I did see a Buster Posey
World Series patch that was upside down in a card window, but that's a common
occurrence for some unknown reason.  All cards are sequentially numbered to
/10 or less. Each card is encapsulated.
PRODUCT DESCRIPTION
Dynasty Patch Autograph
Autographed patch card sequentially numbered to /10 or less.
100 Player Subjects

Autographed Dual Relic Legends
Each dual relic card is #'d /5
6 Player Subjects

Cut Signatures
Each cut autograph is a 1/1.
41 Player Subjects

Cut Signatures Dual Relic Legends
Each Signatures Dual Relic Legends card is  a 1/1.
10 Player Subjects
Overall Grade
B-
2014 Topps Dynasty is an ultra
high-end product and is the ultimate gamble for trading cards.  At over
$300/box (~$1400 for a 5 box case), the checklist is too weak for my liking.
Nothing like paying $300 for a box and (no offense to the players mentioned)
getting a Roberto Alomar, Nick Castellanos, or God forbid, Daisuke Matsuzaka.
These cards will fail to sell for anything near the $300 on the open market, as
well as the majority of the 100 subject basic checklist.  There are
obviously winners, like Mike Trout, Ken Griffey, Jr. and Willie Mays, but that's
a lot to ask as a 3% – 5% chance.
The basic card design is an issue for me as well.  It reminds me too much
of 1992 Studio Collection with a patch and autograph.  Don't get me wrong,
the Dual Relic Legends Cut Autograph cards are GORGEOUS, but the rest of the set
design is lacking.  See the comparison below.
It's probably just me, but it just reminds me too much of the card on the left.
Tags : baseball cards, dynasty, new products, reviews, topps | -- Click Here to Add Comments